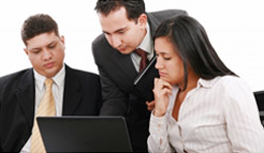 We provide consultancy and end-to-end solutions in the following specialized fields
Retail Credit
HR Management
In a fast growing, evolving & challenging environment like ours, it is important to keep pace with the changed scenarios & opportunities that are available around us. Our Consultants are professionals who bring in huge experience in their relevant area of specialization, having worked at various multi nationals in the past.
As a part of this initiative, we also provide specialized resources who would work with our clients on the shop floor, helping them identify areas of improvement and recommending changes and processes (both, policy related as well as process related) in the fields stated above. Effectively, you will be able to adopt industry best practices, without having to invest in employing full time resources until retirement.
Retail Credit
Consultancy on Retail Credit includes all Retail products like Credit Cards, Home Loans, Personal Loans, Auto Loans and Loan against Shares. Consultancy is provided on the entire Credit cycle ranging from Credit policy, Underwriting of loans, Portfolio Analysis to Collections & Fraud Control.
Retail consultancy could also include drawing up of a Collections training road map for the Collections hierarchy and conducting training for Collections tele callers as well as Third Party Collection Agents.
HR Management
The HR management consultancy includes partnering CEOs and HR Heads on matters relating to creation of HR Strategy, Talent Management Processes, Leadership Development Transformation Management, Compensation & Total Rewards Initiative, Helping companies to co create Industrial Relations and Employee Engagement programs amongst other areas.
This service is particularly useful for SMEs who do not have a full-fledged HR department but are looking to implement best practices within the organization. If required, our consultant could also setup an entire HR Department, which includes writing HR manuals and policies for our client company.